Farmhouse Santa Maria is located in bolsena Lake, between the towns of Marta and Capodimonte. 
And is on the border with Tuscany, in the Tuscia Viterbese, a stone's throw from Lake Bolsena and Civita di Bagnoregio.

We can state with absolute correctness that the main characteristic of the Santa Maria Farm is that although it is easily reachable from the Regional road, (it is only 300 meters from the Municipality of Capodimonte and the lake), it is extremely relaxing as it is completely surrounded by greenery and surrounded
by olive groves, fruit orchards and English-style courses.
The farm has rooms with lake view and rooms with livable terraces overlooking the lake, which can be reached with a comfortable walk of 5 minutes, so our customers define us the Agriturismo on Lake Bolsena.
Farmhouse Services:
Rooms on the upper floors with private livable terrace with beautiful views of the lake and islands. On the lower floors with private garden and lake view;
Ability to integrate the stay in a farmhouse with walks through the paths that bring you closer to the lake, or to the places of Tuscia Viterbese, beautiful experiences both in mountain biking and on foot, demonstrations of agricultural life;
Breakfasts made mainly with farm products at km 0, and favoring the products of Tuscia Viterbese;
Agreements with local restaurants, favoring those where local products are tasted;
Free private parking, and shelter for bicycles;
Barbecue area, relaxation area, and picnic area. Gardens with well-kept English prates;
Typical products of the farm: extra virgin olive oil, asparagus, chestnuts, hazelnuts, garnet apples, etc. ;
Free Wi-Fi
For more detailed information, contact us without obligation  NUMBER (+39) 327.6930723 FRANCESCO , OR MAIL: This email address is being protected from spambots. You need JavaScript enabled to view it.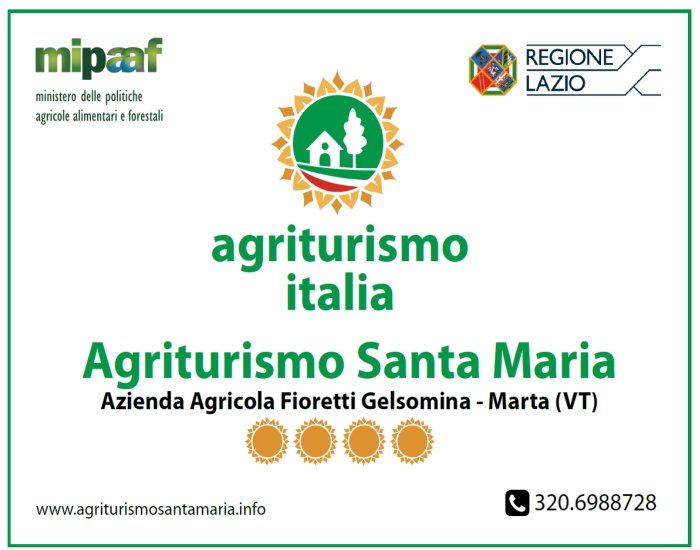 Description of the rooms of the farm:
- Suite Room:
Large quadruple on the first floor of the farm, has a private terrace with beautiful views of Lake Bolsena and the garden of the farm.
- Family Room:
It is a unique environment particularly suitable for families, as it is composed of two communicating rooms (one quadruple and one double). It has a beautiful terrace overlooking Lake Bolsena and the garden of the Agriturismo.
- Double room:
Ground floor room overlooking Lake Bolsena and the farm garden.
 - Triple room with private garden:
Ground-floor room with a private garden with barbecue facilities. This is a newly built room, with a wooden roof, a large private garden livable, with barbecue for the exclusive use of guests of the room.
---
FOR INFO PLEASE:
Call  NUMBER (+39) 327.6930723 FRANCESCO - also Whatsapp ;
Mail: This email address is being protected from spambots. You need JavaScript enabled to view it.  
---